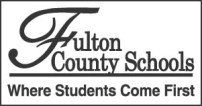 Google Trends list is a representation of the what people are searching for the most right now on Google.  It's sort of like a barometer that measures what the world is interested in at any given moment.  Last night, Fulton County Schools made it all the way up to #4 on the list.  This is a pretty big feat since Fulton County would be considered a more local search phrase in metro Atlanta.
Fulton County Schools had canceled all of their events after 6pm last night due to the inclement weather in Atlanta.  The entire north east of Georgia experienced winter weather with snow, ice, and sleet.
After 6pm, the temperatures were expected to drop below freezing which prompted the Fulton County Schools to cancel all of the events.