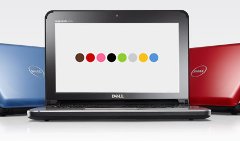 DELL 20% Off Inspiron Mini 10 Netbook
Dell has just announced they are offering 20% off their Inspiron Mini 10 Netbook with a designer cover.
At checkout, just enter the code:  TKHH6QP8JGWNMT
Dell announced this sale via their Twitter outlet profile at @DellOutlet.
Here's more about the Inspiron Mini 10 Netbook:
The Mini 10 and Mini 10v are everything you want in a mobile companion and more. They may be small, but you'll be surprised by all the fun features packed inside.
Be productive with a keyboard 92% the size of a traditional laptop keyboard.
Enjoy a beautiful view with a seamless display surface1 and 16:9 aspect ratio.
Stay connected2 with advanced wireless options.
Navigate like a pro with optional built-in GPS3.
Learn about the differences between the Mini 10 & Mini 10v.
Some netbooks offer Ubuntu operating systems that can be great for those who are tech savvy.
Learn about the differences between a netbook and a laptop.
Personalize a Mini 10v with a choice of seven vibrant colors OR choose from over 200+ artist designs with Design Studio.