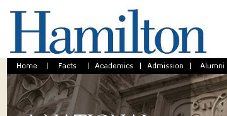 There are so many colleges and universities that are switching over to the Google Apps enterprise solution that Google has created its own hashtag for Twitter called #gonegoogle.
The latest school to convert to the Google Apps system is Hamilton College.
Here's the announcement by Hamilton College:
For the greater part of a decade, Hamilton has been using the Sun Java Communications Express system for e-mail, paying $30,000 or more per year for service.  Gmail, on the other hand, costs nothing. According to members of Hamilton's Information Technology Services (ITS), the reduced cost was among the many benefits that led them to adopt Google Apps for Education.
Beginning on Monday, March 1, ITS began transitioning all students to HillConnect, an umbrella for the suite of applications available through Google Apps for Education.
Google Apps provides a robust suite of applications for the modern day students, faculty, and anyone else associated with a university.
From Gmail, calendars, and online documents, students and teachers alike can collaborate at nearly any level – all via the web (or as Google Apps calls it, "the cloud").
Google Apps can even integrate the suite of applications into just about any mobile device making the system even more collaborative.