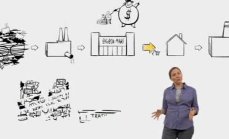 The Story of Stuff was a 20 plus minute video (see full video below) released in 2007 by Annie Leonard.  Today there is news breaking that a new book called The Story of Stuff will be released following the success of the video.
The Story of Stuff Full Video Below
The book The Story of Stuff is 300 pages and expands on her viral video sensation.  This book has much more details about extraction, production, distribution, consumption and disposal in the stages of the materials economy.
The Story of Stuff book will also have facts and examples from all over the world to include stories of real people who are really working for the development of the world such as garment workers in Haiti, Nigerians resisting oil extraction and many others.
The Story of Stuff Video (full version):