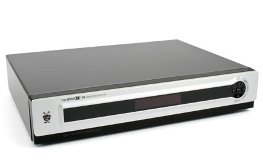 1 TiVo TCD648250 250GB Series 3 HD THX Certified DVR
Today, Woot.com is featuring a TIVO Series 3 in HD.  TiVo Series 3 HD DVR doubles as a YouTube player (with a home network with Internet access).
PRICE:  $169.99
Condition:  refurbished
Here's more specs:
Features:
Control Live TV – Record, Play, Pause, Rewind, Skip Ahead, & Slow-Motion with razor-sharp HD clarity
A True Home Theater Device, THX-certified – It's not home theater without THX-certification
Maintains all of the sharpness and detail found in the original broadcast-both in sound and picture-so you get the complete high-definition experience as it was intended
Brilliantly Intuitive – The high-quality, front panel display shows what's being recorded, even when the TV is off, using OLED (organic light-emitting diode) technology
Supreme Handling with the TiVo® Series3™ Digital Media Recorder Remote -Sleek, glossy, black with silver trim, the new TiVo remote control is backlit for your viewing pleasure and it's a learning remote so it's super-easy to configure to your TV, including convenient ASPECT control button
Season Pass Recordings – Record every new episode of your favorite show
BLOCKBUSTER On Demand – Browse and rent the movies you want to see from the comfort and convenience of home
Amazon Video on Demand – Download movies and TV shows directly to your TiVo box
Netflix – Stream a library of 17,000 movie titles and TV shows through Netflix's Watch Instantly Service (with a Netflix unlimited membership)
YouTube Videos – Watch millions of YouTube videos directly on your TV
Rhapsody – Access 4 million songs in your living room with a subscription to the Rhapsody service
Online Scheduling and TiVo Mobile – Schedule last minute recordings from a PC or a cell phone
Home Media Features – Access internet radio, podcasts, movie times & tickets, and digital photos & mp3 music files on your TV
TiVo Search (an exclusive TiVo feature) – Use this powerful internet based tool for search and discovery of broadcast and broadband programming content
Multi-Room Viewing – Start watching your favorite show in the living room and finish it in the bedroom
TiVoToGo – Fill your iPod mobile digital device or other portable media device with movies and TV shows for free!
Internet Video Downloads – News, sports, weather, technology, music, education, and more sent directly to your broadband-connected TiVo DVR–free of charge
250GB of disc capacity for 300 hours of standard recording time or up to 32 in HD
Expandable Storage – Increase storage capacity with TiVo Verified external eSATA storage available from Western Digital
Dimensions: 12.6″ (D) X 3.3″ (H) X 16.5″ (W)
Weight: 13 lbs.