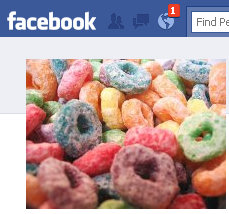 Facebook QR Barcodes
Imagine, if you will, buying a box of Fruit Loops and on the front of the box is a bar code that you can scan with your mobile phone and instantly be taken to the Fruit Loops Facebook Fan Page!
This is something that Facebook has been testing on a limited number of Facebook profiles and Fan Pages.
The QR barcode concept is to allow people to access your Facebook Fan Page via their mobile device from anywhere the bar code is present.
Marketers and major brands will be able to add their Facebook QR barcode to pretty much anything that can be scanned with a mobile phone.  I thought of having a bar code added to the front of a Fruit Loops box of cereal because I happen to be eating some Fruit Loops at the moment.
Any package that consumers physically hold could easily have a Facebook QR barcode on it.
The QR Barcode has only been rolled to a select number of Facebook users.  There doesn't seem to be any reasoning behind who was selected – just randomness.
So have you seen the QR barcode option on your Facebook Fan Page or Facebook profile yet?
It would be located in the list of links directly below your profile picture.