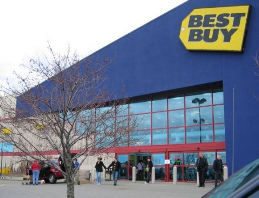 Best Buy Stock Outperforms – Consumer Electronics is Thriving – Up 37% in fourth quarter of 2009.
Perhaps it's because of the drop in prices for flat screen, high definition televisions; or maybe even it's because of the insatiable thirst for cell phones; but one thing is for certain – Best Buy's business outlook is looking better than it has in a very long time.
Best Buy (NYSE:BBY) beat Wall Street's forecast for profit and sales in its holiday quarter and forecast stronger-than-expected earnings in the current year, sending shares up 7.7 percent.
One of Best Buy's stiffest competitors, Circuit City, had filed bankruptcy last year and closed all of it's retail locations.  This move made it the first year where Best Buy did not have Circuit City competing for its holiday traffic and sales.