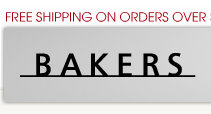 Bakers Footwear Group Inc. (NASDAQ: BKRS) up over 71% on 2.3% comps in 4th quarter.

EPS of $0.73, versus $0.07 reported for the same period a year ago. Revenue for the quarter was $57.6 million, compared to $55.5 million in Q408. Comps up 2.3%.
Bakers Footwear Group, Inc. is a national, mall-based, specialty retailer of distinctive footwear and accessories for young women. The Company's merchandise includes private label and national brand dress, casual and sport shoes, boots, sandals and accessories. The Company currently operates 239 stores nationwide. Bakers' stores focus on women between the ages of 16 and 35. Wild Pair stores offer fashion-forward footwear to both women and men between the ages of 17 and 29.