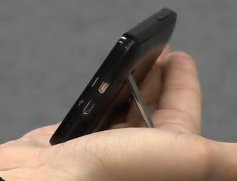 HTC EVO 4G with Android (Video Review)
Sprint gets the honors of having the first 4G device in the United States with the HTC EVO 4G.  This device runs on the Google Android operating system and has one of the most robust multimedia experience on a wireless phone today.
The HTC EVO 4G features the Android Platform with HTC Sense™, a 4.3-inch display, 8.0 MP camera HD video capture, HDMI output, Mobile Hotspot capability.
Here's the HTC EVO 4G video review: