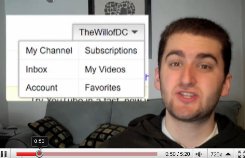 YouTube launches new page layout and adds comments highlight view and ratings improvements.
First, to experience the new YouTube design and layout, you can check it out here.
People wanted a better experience while surfing videos on YouTube.  And guess what – YouTube responded with a new layout and design.
These new layouts feature comment highlights and ratings improvements.
The comments highlight update allows you to see the highest rated comments first, before all of the other comments.  And the ratings improvement now separates the videos you rated (and also ranks them), from those you favorited – making it easier to keep your videos organized.
Here's a great highlight video describing the new YouTube experience: