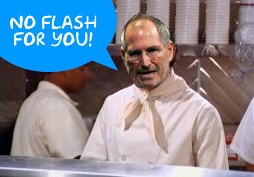 When it comes the new iPad, there is one overshadowing variable missing that most people find perplexing, and in fact, will prevent them from buying all together.
The upcoming iPad release is already building a lot of excitement among consumers.  Not only consumers though, Apple's stock has just hit a 52 week high in anticipation of the iPad release.  But there is one thing missing that is quite perplexing to me – there is no support of flash.
The problem of the no flash support goes beyond the iPad as well. The iPhone does not support flash, and it doesn't look like Apple (and Steve Jobs) will ever get to a point where they will support flash.
Even though we are going to see the iPad fly off the shelves on Saturday, there is no doubt that the iPad market is severely hindered because of no flash support.
Add flash support, and Apple would open themselves to an entirely new market universe – the same advice applies to the iPhone.
Here's what Steve Jobs says about the "no flash" issue:
"…the decision not to support Flash was because it it too buggy, and that HTML5 is the wave of the future.  "
Adobe chief technical officer Kevin Lynch subsequently defended Flash as superior to HTML5 and accused Apple of being uncooperative in terms of getting Flash on the iPad.