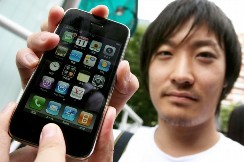 The iPhone has one major problem right now – over the past 4 months, it has lost 20% market share in the United States.
The iPhone craze from a couple of years ago seems is gone.  So are the long lines of people standing outside the AT&T and Apple Stores. The $400 iPhones on Ebay have all but disappeared.
So what's happening? How about the iPhone losing 20% marketshare in the OS space over the past 4 months.
Here's the chart showing the declining marketshare of the iPhone in the US: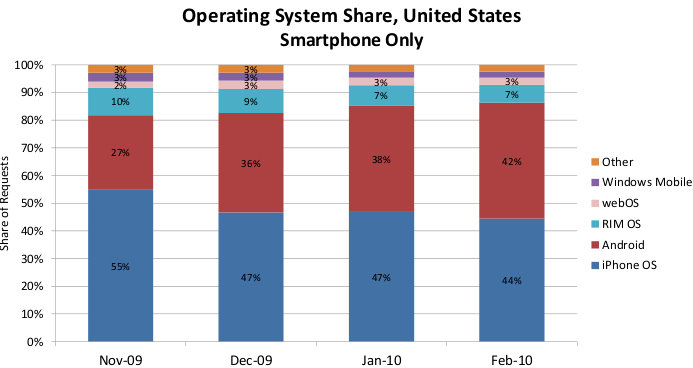 What's causing the drop in market share?
I think the chart says it all… don't you?
Google's Android OS has been gaining market share.  In fact, last month (Feb. 2010), Android has almost an equivalent share of the market as the iPhone (US only).
Plus, with the lack of flash support on the iPhone, and now on the iPad, I expect to see Apple's market share continue to decline while Android continues to increase.
One of the advantages the Android phones have over the iPhone is their support for flash and also for HTML5 – a new code protocol that Apple says will replace flash.
But if Apple is claiming that HTML5 will replace Flash, then where are all the HTML5 supported apps for the iPhone?
With the rising share of the Android OS, Apple needs to start making HTML5 implementation a priority – especially considering the iPad is coming in just a few days.