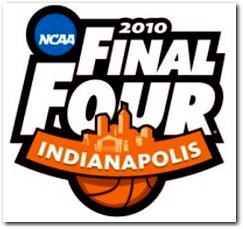 Final Four Game Times Right Here!
We down to the final four, and the web is buzzing right now with people wanting to know when the Final Four game times are. The excitement is in the air for the final four games, and here is the schedule!
The Final Four 2010 games will be played on Saturday, April 3, 2010. The game time for the Final Four 2010 NCAA Men's Basketball Tournament first game will be at 6:07 P.M Eastern Standard Time. The second game will then follow approximately 30-40 minutes after the end of game one at 8:47 P.M. Eastern Standard Time. Both games will be held at the Lucas Oil Stadium in Indianapolis, Indiana.
The Final Four (4) Schedule of games

FINAL FOUR
No. 5 Butler vs. No. 5 Michigan State, 6:07 p.m. Eastern Time, Lucas Oil Stadium (Indianapolis, IN)
No. 1 Duke vs. No. 2 West Virginia, 8:47 p.m. Eastern Time, Lucas Oil Stadium (Indianapolis, IN)
Saturday's games will be televised by CBS who has been broadcasting the entire NCAA Basketball tournament so far.
The first of the two games will pit the #5 seed Michigan State against #5 seed Butler. Michigan State was in last year's NCAA Championship game, but fell short to the champion Tar Heels.
If I had to guess, I would say that we are going to see Michigan State and Duke in the NCAA championship game. Michigan State has a long standing history of dominance in the Final Four Game, as well as Duke.
It will be exciting to watch the Final Four games tonight!
So who do you think we are going to see in the championship game?