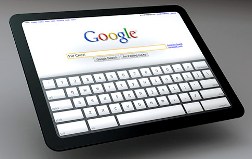 One reason Google is so successful is that they are continually pushing to expand their market. On Saturday, Google's search engine market share got a huge boost from Apple's iPad.
Google has locked in the coveted position of being the iPad's default search engine. Google search is, without a doubt, the most widely used search engine in the world. And rightly so… they deliver the most comprehensive and highest quality search results.
On Saturday, when Apple's iPad made its debut, Google's market share expanded to 300,000 new devices – just in one day. There is no doubt that Google probably fought hard to ensure that it was Apple's first choice for a default search engine on the iPad.
The great thing about the iPad is that it provides full HTML sites. The screen is big enough for anyone, even those with difficulty seeing, to be able to enjoy their browsing experience.
But Google has taken the iPad experience one step further. This week Google announced a whole new set of Google products that are designed specifically for the iPad – products like Gmail, Google Calendar, Google News, Picasa, and of course, Google's search engine itself that resides at Google.com.
Google's stated mission is to organize all of the world's information. I think in addition to that, it also aims to make information accessible on every device known to man.
So that's why we see Google becoming the default search engine on devices like the iPhone, iPad, and the Blackberry, as well as on my computer and my laptop. They make themselves available anywhere its possible to access information.
Where will Google turn to next?
My guess… the television!