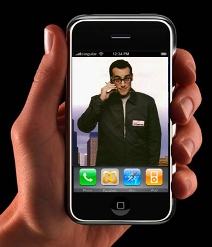 Will Apple announce a Verizon iPhone at iPhone OS 4 event on Thursday?
As I was writing about Verizon's desire to bring on the iPhone, I concluded the article talking about the Apple event on Thursday where they will be discussing the new iPhone OS 4.
Is it possible that the iPhone OS 4's concept was originated as a result of Verizon wanting to sell the iPhone?
After all, Apple has already said they are currently working on an iPhone that is 100% compatible with Verizon's network. This "working on a new iPhone" concept could very well be the new iPhone OS 4 that we keep hearing about.
And Verizon's CEO Ivan Seidenberg has already gone on record saying that ""wants to carry the iPhone", and that "Apple is still working on a the design for a compatible version of the iPhone for Verizon's network."
So it wouldn't surprise me one bit to hear Apple announce a partnership with Verizon on Thursday at the iPhone OS4 event.
People seem to be split evenly over agreeing, and disagreeing with Apple's decision to leave an exclusive deal with AT&T. But from Apple's perspective, they obviously want to sell more iPhones – which will happen when / if they expand to Verizon, but they (being Apple) also want to ensure the highest quality service for iPhone users. And this is an area that AT&T has come up short.
Customers are reporting on a regular basis that they are losing calls and 3G connections in large metro areas like San Francisco and New York.
This is just unacceptable to people who are paying AT&T's $30 per month unlimited data package with the iPhone.
It will be interesting to see what Apple talks about at Thursday's iPhone OS 4 meetings, and perhaps we'll even hear the official announcement of the Verizon / iPhone expansion.
Engadget will be liveblogging from the iPhone OS 4 event on Thursday.