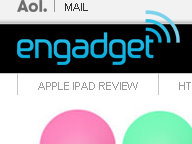 Apple announced an iPhone OS 4 event to be held on Thursday, April 8th at 10AM PST for a sneak peek of the next generation iPhone OS software.
The best news is that Engadget  will be liveblogging the event directly from Apple's campus.
What can we expect from Apple and their new iPhone OS 4 event? Who knows… your guess is as good as mine.
But here are a couple of points I have found of what people would like to hear:
– fix the battery issues where push mail opens a bajillion connections to my exchange server and eats through the battery in 2 hours.
– multitasking, at least for Soma.fm and Pandora. I'm actually OK with most of the current app model, assuming you fix my battery issues. But I do want to listen to more than just MP3 in the background. Without having to JB.
– just enable the damn video capability already on the 3G. I don't care if it isn't as good.
– app folders or some better organizing strategy.
– let me customize the lock screen for some cool info, like how many emails, local temperature, widgets etc.
– Copy and paste! Multitasking! Flash! MMS! oh wait, that's the Android
– New universal search.
– unified/improved mailbox.
– iChat app?
– (limited) 3rd party multitasking*
– App management improvements (categories? Dynamic app placement?)
– Tabs in browser for iPad
– significant improvement to background GPS access (not necessarily the same as backgrounding of the GPS app itself)
– Multiple Exchange accounts
– Dramatically improved calendar (including more native exchange support)
– heightened device security, including improvements for remote admin's.
– local file system for iPhone (associated with storing attachments from mail and sharing some data between apps)
– improved cloud syncing/access
– Resolution independence
– improved "home" screen (likely a fairly amazing design/method, intuitive in a way we do not expect)
– native iBook app and iBook store support for iPhone
– iPhone "readers" for iWork, possibly a presentation app for keynote (via dock connector?)
– movement of some data features to more sharable locations in the underlying file system, or improved APIs for accessing whats there already.
– Tethering (finally) on AT&T @ $10 or less.
– June release date.
– no announcements of specific new hardware, but hints about what's coming.
– iPhone WiFi to 3G bridge mode for non 3G iPad (since they can't technically tether as the cable spec has no crossover option in the design).
– Verizon is a "no-go" announcement.
Comment source: Gizmodo