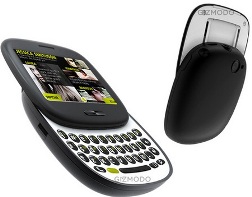 New mobile phones from Microsoft are coming.
In true Steve Jobs / Apple fashion, Microsoft sent out an invitation to reporters for an event that will be held in San Francisco on April 12th. The content of this event is unknown because Microsoft is keeping it top secret.
Hmm… where have we seen this before? A top secret meeting held in San Francisco where only a select group of reporters are invited?  Wait, let me think…. still thinking… oh yeah, it sounds a lot like Apple's pre-iPad announcement!
Anyway, Microsoft is expected to announce a new line of mobile phones that are designed with "social networking" in mind.
In my mind, the best "social networking" phone is the iPhone, equipped with the Facebook iPhone App.
One of the phones that are expected to be announced by Microsoft is the phone called Pink.
Well, that's about all I have on the super secret Microsoft announcement. I guess we'll see what happens on April 12th.
A couple of predictions:
1) Engadget will be doing live blogging from the event.
2) People will be flooding the web with complaints by the end of the first day.