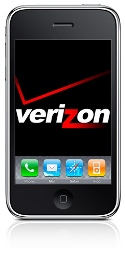 Will we see the Verizon iPhone in September?
Just like the iPad 3G release date is still yet unknown, we are waiting for an official release date of the Verizon iPhone. Some speculation has the iPhone arriving at Verizon this coming fall, and more specifically, sometime in September.
According to HuffingtonPost,
The people briefed on the matter said one of the new iPhones is being manufactured by Taiwanese contract manufacturer Hon Hai Precision Industry Co., which produced Apple's previous iPhones. The model that has CDMA capability, used by Verizon Wireless, is being manufactured by Pegatron Technology Corp., the contract manufacturing subsidiary of Taiwan's ASUSTeK Computer Inc., said these people.
One person familiar with the situation said Pegatron is scheduled to start mass producing the CDMA iPhones in September, but it was unclear when Apple might make the model available.