Dr. Dre Under Pressure with Jay-Z Coming in 2 Weeks (Video)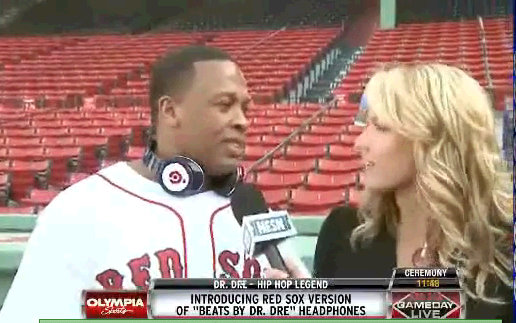 The rap and hip-hop world is coming unglued right now with the soon to be released Dr. Dre "Under Pressure" track that will also be featuring Jay-Z.
Dr. Dre's Under Pressure song will be his first release from the long-anticipated third Dr. Dre solo album "Detox" scheduled for a release sometime in 2010.
Dr. Dre attended the game opener in Fenway Park in Boston for the Boston Red Sox game and gave an interview to talk about his upcoming track and the new album.
Dr. Dre also sat with Lebron James in a private viewing box during the Red Sox game and was even taking some batting practice swings with the Red Sox wearing a jersey that said "808" on the back. Along with the busy-ness of the day, Dr. Dre was also promoting his new "Beats by Dre" headphones which were done up with a Red Sox logo theme.  Dre says they're the "best-sounding headphones hands down."
Dr. Dre interview at Fenway Park for Boston Redsox game opener: