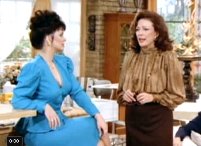 Designing Women Video (Dixie Carter Tribute)
News is breaking on the web that Designing Women's star Dixie Carter has passed away at the age of 70.
Dixie Carter was certainly best known for her role on Designing Women but also became popular on the TV series Desperate Housewives.
Dixie Carter's family is requesting their privacy as they morn the tremendous loss.
The cause of death has not yet been released to the public (as of this writing).
Here's a Designing Women highlight video featuring Dixie Carter