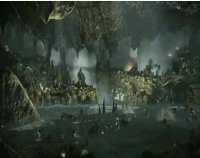 Gears of War 3 Trailer (Video)
Even the most experienced gamer out there will not be disappointed with this new game, as they say it will be a top-notch game that is full of action and suspense.
It will be one game that is not expected to disappoint.
The trailer for the Gears of war game is really cool and a link can be found at the bottom of the page. Happy gaming and I hope you all enjoy the Gears Of War.
Microsoft was very excited about the release of this continuing war saga.
"With the last human city destroyed and the remaining survivors stranded, time is running out for Marcus and his comrades as they fight to save the human race from the jaws of extinction," an announcement from Microsoft explains, as Delta Squad face not only the returning Locust Horde but tentacled new foes the Lambent.
"When we released 'Gears of War' more than three years ago, we set out to tell the world an unforgettable story of bravery and sacrifice in the face of insurmountable odds, and a year from now, players will get the chance to experience the final chapter in the story of Marcus Fenix and his companions in Delta Squad," said design director Cliff Bleszinski.
Gears of War 3 Trailer: