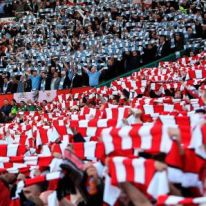 Manchester Derby – More Than Just Pride for Manchester
MANCHSTER, England (Reuters) – For the first time in Alex Ferguson's long reign at Manchester United, Saturday's derby clash means more than just pride and local bragging rights for Manchester City.
City lead the race for the fourth and final Champions League place and that adds fuel to the fire.
"It puts a definite emphasis on the derby game," Ferguson told a media conference on Friday.
"In my years at Manchester United this is the first time we have played City when they have had a chance to achieve something.
"A lot of neutrals will say that is fantastic for City and makes the game tomorrow more appealing than ever."
City manager Roberto Mancini said: "It is important because if we finish fourth we can change our path and play Champions League football next season. That is the most important thing, for the club, for the players, for me."
Ferguson said: "That's the great thing about derby games. In my 23 years every time we have played City, they have always said they would beat us. That's what derby games do, they create a fantastic enthusiasm and supporters want to hear that.
"It's a different derby game tomorrow because both teams can achieve something out of it … and both can lose out of it as well."
Read more at Reuters