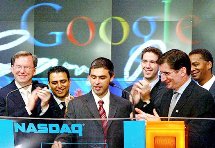 NASDAQ:GOOG – Google Stock Gets Upgraded
Although yesterday seemed like nothing good was happening with Goldman Sachs, we can't say that all was bad… Golman Sachs kept Google (NASDAQ:GOOG) on it's buy list.
The outlook on the economy is starting to appear a bit more favored, and this will inevitably bring in more businesses who are willing to spend more money with online advertising, and more specifically with Google Adwords pay per click marketing platform.
Google's stock price has had a difficult time since Thursday when CEO Eric Schmidt issued their 1st quarter revenue numbers. Although the number exceeded analyst expectations, it wasn't good enough to prevent a sell off of the Google shares.
Goldman believes that Google's 1st quarter "results showed the strength and pro-cyclicality of its franchise as US revenue accelerated to up 22% yoy from up 11%yoy in 4Q, driving total revenue up 22% year over year from up 16% year over year."
Goldman increased the price target on Google by $10 to $680. That's a 23.6% gain over Friday's closing price.
Canaccord Adams maintained its Buy rating on Google and set a $700 price target due to increased strength in the advertising market.
Citi reaffirmed its Buy rating but has a target price of just $640 on Google's shares. "Q1 results beat consensus estimates, but came in shy (again) of high-end expectations. Overall results were generally in-line with our estimates. We believe GOOG shares have material valuation support here."