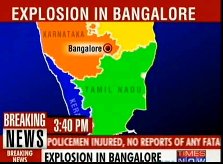 Blast Occurs in Bangalore Stadium During Cricket Game
Reports are streaming into Twitter about a blast that occured in a Bangalore stadium today in which six people have been reported injured.
The blast occurred outside Bangalore's M. Chinnaswamy Stadium about an hour before the Mumbai Indians were scheduled to take on the Bangalore Royal Challengers in a cricket match.
The blast was near Gate No. 12 inside the generator room of the stadium.
The Bangalore police are currently ruling out any act of terrorism and stating that the incident was minor.
The Karnataka Cricket Association also termed the explosion as a minor incident.
"It's a minor incident in the generator room. No need to worry. We will have a delayed start though. May be of 10-15 minutes," Karnataka Cricket Association Assistant Secretary Sudhakar Rao was quoted as saying by the PTI.
Players for both teams were physically inside their locker rooms when the Bangalore blast occurred.
Video report of Bangalore blast at stadium: