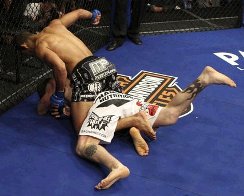 WEC 48 Results: Aldo vs Faber (Fight Results, Video)
First, let me say that if you are trying to find a video of the actual fight, you will be hard pressed. YouTube has taken down every clip of the Aldo vs. Faber fight across the board.
WEC 48 Fight Results
The results of the fight, however, are easy to find and let's get right into the Aldo vs Faber fight.
Right from the beginning, Aldo (only 23 years old) had the advantage over Faber who is obviously a great fighter. But the speed, tenacity, and powerful kicks of Aldo ended up being too much for Faber to handle after a long, 5 round battle in the cage.
From MMAMania.com, here's a great recap of the Aldo vs Faber fight:
Unfortunately, Aldo, and his brutal leg kicks, were just too much for Faber to handle.
Aldo chipped away at Faber's front leg with vicious precision for three straight rounds, hobbling the former champion and sapping him of his explosive mobility. In fact, Faber's corner man carried him to the corner at the end of the third round because Faber was so injured.
It was a calculated and patient dissection from the champion, chopping Faber down from the bottom up and then beating him up from the top down.
Finally, in the fourth round, Faber had no other choice but to pull guard and hope to somehow pull off a come-from-behind victory from his back. All that got him, however, was in the wrong side of a mounted crucifix position. Faber was able to hang on to the fifth in final round, basically, on sheer guts alone.
It was that close to being stopped.
The fifth round was a mere footnote in an otherwise lopsided fight. Aldo coasted to a dominant unanimous decision win over a very good and talented Faber. Aldo is so good that in the end he didn't look remotely tired or even touched for that matter.
Dana White's video blog of Aldo vs. Faber:
This is Dana White's first video blog of the week leading up to the Aldo vs Faber fight.
I think this is a great idea by Dana White to start broadcasting video blogs because so many of the MMA fans are engaged on YouTube, and Dana White's video blogs will reach that audience in a powerful way.
So here's Dana White's video blog leading up to the Aldo vs. Faber fight: