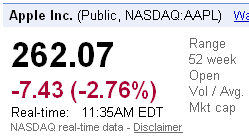 NASDAQ:AAPL – Are Apple Shares About To Crash?
Apple shares (NASDAQ:AAPL) have been on a bull run over the past six month and are up nearly 35% during the same period. With the recent iPad release, and the upcoming iPad 3G, we can expect Apple shares to continue their bull run.  There are other factors influencing the future hopes of Apple shares continuing their climb and these include continued strong MAC sales, the potential of an iPhone 4G, and expanding iPhone carriers beyond AT&T.
But what about the current stock price and to likely hood that the stock will continue it's aggressive climb up. I wrote yesterday about how I believe that we could possibly see Apple shares hit $400 and the associated factors that could drive it to that price.
But what about the volatility of the stock, and the likelihood that it not only won't continue it's northward climb, but also the likelihood that it may also drop in price?
Today Apple is down about 2.65% at 262.20.
So what happens if iPad 3G sales don't turn out to be quite as robust as investors had hoped.
And what about the controversy surrounding the iPhone? There is still no iPhone 4G and the iPhone – at least in the United States – is still only available on the AT&T network.
Should these be points of concern for the investor, or are they examples of how well run Apple is and perhaps these are actually arguments for buying more shares?
What are your thoughts about the outlook on Apple stock prices?