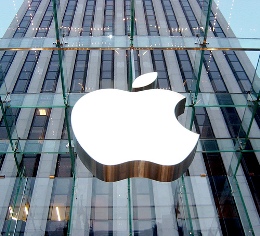 NASDAQ:AAPL – Will Apple Shares Hit $400?
Apple stock prices have been on a bit a terror lately. Just last week, after Apple announced it's quarterly earnings, and beat revenue estimates by a whopping 36%, the stock shot up to a new record high on April 21st, 2010 to $258.22 a share.
Now the stock seems to have all the momentum in the world going for it coming into even more new announcements of products.
This week will mark the launch of the new iPad 3G. The iPad 3G will allow for people to be truly mobile, feeding the internet off of AT&T's 3G data network.
The Business Insider is reporting that Gene Munster at Piper Jaffray believes Apple will sell 200-300K iPads this weekend bringing his total unit estimate to 2.7 million in calendar 2010.
With countries like Israel, and universities like Cornell, overcoming their security fears of the iPad, this should open up even more market share potential and more sales revenue for Apple.
It is widely expected that Apple will be announcing the iPhone 4G and with it, expanding the iPhone into other carriers in the United States. So what kind of iPhone sales in the US will we be seeing when Verizon, Sprint, T-Mobile and AT&T are all selling the iPhone? This is huge…
Mac unit sales are up an average of 39% year over year for the first two months of the March quarter, which according to Munster translates into sales of somewhere between 2.8 and 2.9 million Macs for the full quarter. The Street, he says, is looking for Mac sales to be up only about 22%.
All of this points to an outlook that seems very bullish, and it makes me wonder if we won't actually see Apple stock hit $400 per share by the end of the summer.
So there it is – my prediction is that Apple shares will be $400 by the end of the summer.
So what do you think about that?