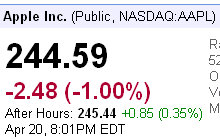 NASDAQ:AAPL – Apple Earnings Up, Stock Down 1% from Friday's close
Apple reported it's second quarter earnings today and said that profits rose 90% and that nearly 9 million iPhones were sold. These numbers from Apple (NASDAQ:AAPL) easily beat Wall Street estimates in both profits and sales. The biggest surge and increased sales came from the International sales of the iPhone.
Despite Apple reporting a 90% increase in profits and shattering Wall Street estimates, the stock ended up down 1.72% from Friday's close of $247.40 – Apple stock closed today at $244.39.
Bloomber reports that Apple's second-quarter profit almost doubled to $3.07 billion, or $3.33 a share, from $1.62 billion, or $1.79, a year earlier, Cupertino, California-based Apple said today in a statement. Sales gained 49 percent to $13.5 billion, topping the $12 billion average of analysts' estimates compiled by Bloomberg.
And MarketWatch.com said that "basically, the iPhone stole the show," said Brian Marshall of Broadpoint AmTech Research. He noted that the device showed "fairly significant upside" compared to Wall Street's estimates for the quarter.
Will we now hear of the iPhone4G?
Steve Jobs promised that we'd see "more extraordinary products" this year from Apple.
Is one of these "extraordinary products" the iPhone 4G?
I've predicted that after today's quarterly results, Apple will turn it's focus on either the iPhone 4G, opening up to the Verizon network with the iPhone, or perhaps even both.