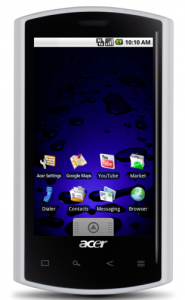 Most of you know Acer from their computers but if you happen to live in the UK you are lucky enough to get the Acer Liquid.  
This is Acer's Android phone which currently runs Android 1.6 the handset will also have a 768MHz Qualcomm Snapdragon processor, 256 MB of RAM & 512MB ROM, support Wi-Fi, Bluetooth, a 3.5-inch touchscreen, a 5.0 mega pixel camera with autofocus, a 3.5 mm headphone jacket, a accelerometer, light sensory & a proximity sensor. Below is an unboxing of the handset :

Source: Acers website
Josh Uhlemeyer
Former Author of Mobile News Now.