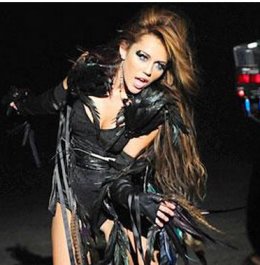 Miley Cyrus Can't Be Tamed Video (Pictures, Photos)
Miley Cyrus is definitely leaving the Hannah Montana days far behind, and she is obviously ready to build a whole new image off the new Miley Cyrus theme!
Miley Cyrus Can't Be Tamed Video premiered tonight on E! Online.
Although the video has yet to officially – and legally – hit the web, the premiere took place tonight.  But that left the whole world who didn't see the premiere at 7pm EST hanging and anxious to view the video.
So instead of releasing the video, E! Online has released some still images and pictures from the video – this might be all you can get until the video starts leaking out on the web.
And I expect the leak to happen in 3… 2… 1…
Here's the Miley Cyrus Can't Be Tamed images