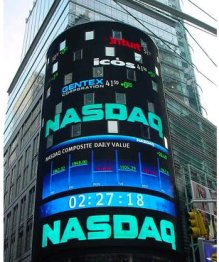 NASDAQ Top Movers: MSON, AKRX, NTRI, OSTK, VVUS
Even though the NASDAQ closed down today, and most of the NASDAQ stocks down with it, there were some NASDAQ shares that saw huge increases today.
Let's see if you owned any of these NASDAQ winners:
MSON – MISONIX, Inc. up over 30%

MSON (Misonix, Inc.) closed up today over 30%,+0.70 (30.57%)
MISONIX, INC. (Misonix) designs, manufactures, markets, and develops minimally invasive ultrasonic medical device products. It also develops and markets ductless fume enclosures for filtration of gaseous contaminates in the laboratory and forensic markets.
AKRX – Akorn, Inc. up 29%
AKRX (Akorn, Inc.) closed up today over 29%,+0.62 (29.11%)
Akorn, Inc. manufactures and markets a range of diagnostic and therapeutic ophthalmic pharmaceuticals, as well as niche hospital drugs and injectable pharmaceuticals.
NTRI – NutriSystem Inc up 22%
NTRI (NutriSystem, Inc.) closed up to over 22%, +4.12 (22.27%)
Nutrisystem, Inc. is a provider of a weight management system based on a low-calorie, portion-controlled, prepared meal program. The customers purchase monthly food packages containing a 28-day supply of breakfasts, lunches, dinners and desserts, which they supplement with fresh dairy, fruit, salad, vegetables and low-glycemic carbohydrate items.
OSTK – Overstock.com, Inc. up 21%
OSTK (Overstock.com, Inc.) closed up today over 21%, +4.15 (21.03%)
Overstock.com, Inc. is an online retailer offering closeout and discount brand and non-brand name merchandise, including bed-and-bath goods, home décor, kitchenware, watches, jewelry, electronics and computers, sporting goods, apparel, and designer accessories, among other products.
VVUS – Vivus, Inc. up 13%
VVUS (Vivus, Inc.) closed up today over 13%, +1.43 (13.86%)
VIVUS, Inc. is a biopharmaceutical company focused on the development and commercialization of therapeutic products for underserved markets. Its investigational product pipeline includes two late-stage clinical product candidates.