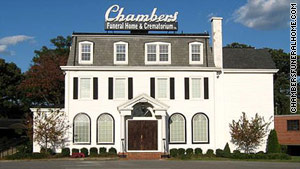 40 Bodies Found In Garage
Talk about "shades of Ray Marsh" at the Tri-State Crematory in Walker County, Georgia.
The Maryland State Board of Morticians and Funeral Directors says the Chambers Funeral Home & Crematorium in Riverdale has until Friday to cremate the 40 bodies found by an inspector  in body bags in its garage.  Then the funeral home will be closed.
The state inspector saw body bags containing human remains stacked in a pile, about 12 feet by 12 feet, on the floor of the mortuary's garage.
A Maryland board has suspended the license of  the Riverdale funeral home, and William Chambers, one of the funeral home's owners, says that he will fight the license suspension.
In the Walker County, Georgia incident Ray Brent Marsh was arrested on over 300 criminal violations and was ultimately charged by the State of Georgia with 787 counts, including theft by deception, abusing a corpse, burial service related fraud and giving false statements.
Marsh eventually pled guilty and is currently serving a twelve year sentence with credit for the time he had spent in custody before obtaining pretrial release on bond.