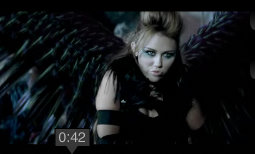 Miley Cyrus Can't Be Tamed Video (watch the video below)
After being premiered yesterday at 7PM est, the Miley Cyrus Can't Be Tamed video was not available on the web until earlier today.
Watch Can't Be Tamed below:
However, once the Can't Be Tamed video hit the web, it didn't take long for the viral affect to hold and the video started to spread like wildfire. Originally, the video (from my understanding anyway) was found on MTV.com, but then other sites started to pick it up.
Anyway, below you watch the full length video of Miley Cyrus' Can't Be Tamed:
This is definitely a step in a totally different directly for Miley Cyrus. No longer is she the Hannah Montana that everyone, including kids, came to love and adore.
According to MTV.com, in an interview with Ryan Seacrest that ran after the video's debut, Cyrus said the video wasn't about her new attitude, but about putting a story to the rebellious track. A museum curator introduces "a creature so rare it was believed to be extinct" to a crowd of posh attendees, announcing that "in captivity for the first time, the rarest creature on Earth, Avis Cyrus."
What do you think?
So what do you think about Miley Cyrus and her new Can't Be Tamed video?
Are you glad that Miley Cyrus has moved on from her Hannah Montana days?