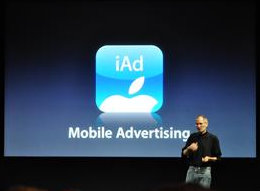 NASDAQ:AAPL – $800 Million in iAd Revenue Expected This Year
Apple's new advertising platform iAd might be highly underestimated, especially among investors. Perhaps when Steve Jobs talks about his next big thing, maybe iAd is it.
Apple unveiled iAd during its iPhone 4.0 developer preview. Steve Jobs made the announcement of the much anticipated mobile advertising platform.
According to TechCrunch, this was expected since Apple acquired mobile ad platform Quattro Wireless, after having AdMob snatched away by Google (though the FTC may recommend blocking that deal).
Apple will sell and host the ads, giving 60% of ad revenue back to developers, and Jobs says that developers can add ads to their apps "in an afternoon". Unlike most mobile ads, which kick users outside of the application they're currently using, iAd keeps users in the same app. In a jab at Flash, while showing an ad, Jobs said "Oh, by the way, all of this is done in HTML 5" TechCrunch said.
iAd Expected to Generate $800 million in revenue this year
A.M. (Toni) Sacconaghi at Bernstein Research believes that Apple's new ad platform, iAd, will be bigger than most investors currently think. He estimates that iAd revenue could potentially reach an annual run-rate of $800 million in revenue by the end of fiscal 2010. For developers this would generate an incremental 46% – 83% in revenue beyond their existing app sales today.
If Apple's installed base of iPads, iPhones and iPod Touches continues to grow beyond expectations, Sacconaghi thinks his estimates could prove conservative. Toni reiterates his Outperform rating and $300 price-target.
With the explosive growth of the iPhone worldwide, and especially the blazing sales rates in China, the iPhone is obviously a leading data device and ideal for running ads.
This move will obviously cut right at the throat of Google's mobile advertising efforts as Google strives to be the leader in the mobile ad space, developing ad solutions that work directly on the iPhone.
It will be interesting to see what comes of iAd, and the interest that might unfold for mobile advertising.
Some research I've seen indicates that mobile phones deliver a very low conversion rate, so the advertising method of choice might be strictly impression based ads.
What do you think?
Do you think Apple has the potential to generate $800 million this year alone from iAd?
Is iAd a potential threat to Google's mobile advertising efforts?