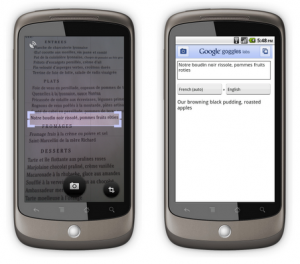 Google released an update for Google Goggles the companies visual search application for Android.
The updated includes language translation, which will allow the user to take a picture of something written in a different language and translate it on their Android handset.
As of right now the only language texts that are supported are English, French, Italian, and German & Spanish. Other features in the Google Goggles update are improved bar code recognition, updated user interface & the recognitions of more logo's & products.
Source: Google Mobile Blog
Josh Uhlemeyer
Former Author of Mobile News Now.