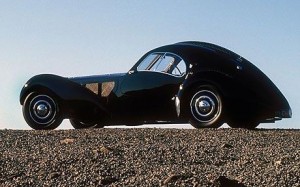 Bugatti Type 57sc – A vintage Bugatti 57sc supercar has break the world record for Vintage Car Auction and become the most expensive automobile in the world, Bugatti Type 57sc smashing car sale records when it was bought by a museum for more than $30m (£20m).
Brokers Gooding and Company, based in Santa Monica, had auctioned off the grey blue Bugatti, which is considered to be a French Deco design classic. This Bugatti sold to The Mullin Automotive Museum in Oxnard, California from the family of late car collector Dr Peter D Williamson at an car auction last week.
The car was the first of three Atlantics built – hence the high price. There are just two remaining Atlantics left, and fashion designer Ralph Lauren owns the other one.
Previously, the most valuable car ever sold at a public auction was a 1957 Ferrari 250 Testa Rossa, which sold in Maranello, Italy, in May 2009 for $12.2 million, according to the WSJ.