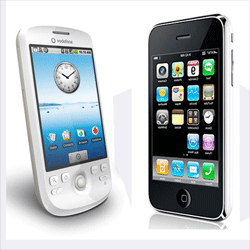 Google Android Outsells iPhone in 1st Quarter 2010
To further my argument as to why Apple is making a huge mistake by locking itself in with AT&T, there is breaking news stating that Google Android devices are now outselling Apple iPhones here in the United States – for according to 1st quarter sales results [resource NPD Market Research].
Did you hear that – Android devices are outselling the iPhone in the US!
Google's Android-based smartphones accounted for 28% of smartphone sales, while the iPhone accounted for 21%, according to market research firm NPD.
The sales of Android powered smart phones actually bumped the iPhone out of its 2nd place position – both devices come behind the raining champion of the smart phones, the Blackberry, which accounted for 36% of the sales.
Here's more from NPD Research,
The Android operating system (OS) continued to shake up the U.S. mobile phone market in the first quarter (Q1) of 2010, moving past Apple to take the number-two position among smartphone operating systems.
NPD's wireless market research reveals that based on unit sales to consumers last quarter the Android operating system moved into second position at 28 percent behind RIM's OS (36 percent) and ahead of Apple's OS (21 percent).
"As in the past, carrier distribution and promotion have played a crucial role in determining smartphone market share," said Ross Rubin, executive director of industry analysis for NPD. "In order to compete with the iPhone, Verizon Wireless has expanded its buy-one-get-one offer beyond RIM devices to now include all of their smartphones."
Strong sales of the Droid, Droid Eris, and Blackberry Curve via these promotions helped keep Verizon Wireless's smartphone sales on par with AT&T in Q1. According to NPD's Mobile Phone Track, smartphone sales at AT&T comprised nearly a third of the entire smartphone market (32 percent), followed by Verizon Wireless (30 percent), T-Mobile (17 percent) and Sprint (15 percent).
"Recent previews of BlackBerry 6, the recently announced acquisition of Palm by HP, and the pending release of Windows Phone 7 demonstrates the industry's willingness to make investments to address consumer demand for smartphones and other mobile devices," Rubin said. "Carriers continue to offer attractive pricing for devices, but will need to present other data-plan options to attract more customers in the future."
In a press release, NPD analyst Ross Rubin attributed the strong sales of RIM and Android phones to Verizon's buy-one-get-one deals.
Android is now on dozens of handsets on each major carrier, so it makes sense that it leapt passed the iPhone.
Apple had better start looking beyond AT&T
One thing is for sure, if Apple wants to maintain it's current market share with the iPhone, then it needs to start looking beyond the exclusive clause with AT&T.
Apple needs to – now by shear necessity – expand the iPhone to multiple carriers and open up the market place for their iPhone.
As it is now, only AT&T customers can purchase the iPhone and use it – that is terrible business, and it's very dangerous in this highly competitive mobile market environment.
What do you think about this news of Android outselling iPhone in the 1st quarter of 2010?