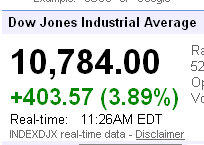 INDEXDJX:.DJI – Dow Jones Industrials Up 400 points & Climbing
On the heals of a nearly $1 trillion dollar bailout package to help stabilize Europe, the Dow Jones Industrial Averages have soared in early Monday morning trading, and the momentum doesn't appear to be slowing anytime soon.
** UPDATE ** At 11:21am EST on Monday, the Dow Jones Industrial Average is now up 405 points.
Written at 11:15am EST >> With the Dow Jones Industrial Average (INDEXDJX:.DJI) up 392.84 points or 3.78% at 10,773.27, the DJIA is on track for the largest single day gain of 2010.
The Standard & Poor's 500-share index inched back above the key 1150 level, rising 3.8% to 1153. The Nasdaq Composite gained 4%.
All but one of the Dow's 30 components gained. General Electric climbed 6.9% to lead the measure. Boeing rose 5.9% after Goldman Sachs upgraded the stock to conviction buy from neutral, writing that Boeing "spans nearly every positive global theme that is driving outperformance in stocks today."
Cisco Systems rose 6.3% and Caterpillar gained 6.1%.
Only Wal-Mart Stores slipped into the red, edging down 0.5%.
Within the S&P 500, the industrials and financials sectors led the gains, as investors returned to the riskier areas of the market.
The U.S. market's climb followed strong gains in the Asian and European markets after the European Union agreed to a EUR750 billion ($954.83 billion) bailout, including EUR440 billion of loans from euro-zone governments, EUR60 billion from a European Union emergency fund and EUR250 billion from the International Monetary Fund.
[Source: MarketWatch.com]