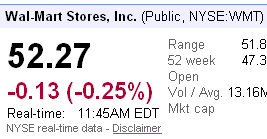 NYSE:WMT – Wal Mart, The Only Dow (DJIA) Stock  That Is Down
The Dow Jones Industrial Average (INDEXDJX:.DJI) is currently soaring over at it climbs past 414 points coming into the 11:30 mark on Monday morning (see image below):

29 out of 30 Down stocks in the positive
With 29 out of the 30 Dow Jones Industrial Average stocks currently trading in the positive, that leaves only 1 stock out the 30 that is in the negative.
And on a day like today, when you are the only 1 DJIA stock that is trading down, unfortunately you get noticed and called out.
NYSE:WMT – Wal Mart Stock, Only Negative Dow Component
Sorry Wal Mart (NYSE:WMT), but when all of the other 29 Dow components are trading in the positive, and you are the only one trading in the negative, then it's a lot like being the slowest guy on world's fastest team – you're going to get singled out.
However, despite Wal Mart stock trading down -0.02 (-0.04%) at 52.37, it is just barely down in the negative. And Wal Mart shares (Wal-Mart Stores, Inc.) are trading an usually high volume as we close out the morning trading session, according to Traders Huddle:
Unusual high volume detected on shares of Wal-Mart Stores, Inc. (NYSE:WMT), early in the trading session. Wal-Mart is currently trading lower by 0.76%, so definitely the sellers in control, as the stock's volume is on pace to break its average.
So with high volume, and only .04% points away from being positive, perhaps we'll see Wal Mart come through for it's buddies on the DOW and find a way to get into positive territory.