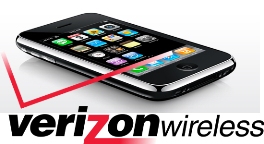 Verizon iPhone Cometh, Just A Matter of Time
Sure, Steve Jobs struck a deal with AT&T to extend the AT&T exclusive clause by 6 months. This gives AT&T another 6 months of the being the exclusive carrier and data provide of Apple's hugely popular iPhone here in the United States. And now, with the release of the iPad and iPad 3G, AT&T has the exclusive rights to carry and provide the data package for the iPad 3G.
But this whole "exclusive" business has to come to an end – and that being sooner rather than later.
Apple can only carry on with this whole "exclusive" mindset for so long. Because after all, the mobile phone and data device market is expanding and growing rapidly. The like of people like Google building their Android OS that facilitates mobile devices to access data from nearly every carrier known to man, is eventually going to put pressure on the iPhone in the United States. And when this happens, Steve Jobs will be forced to take the precious iPhone and open it up to other carriers.
And more than likely, when Steve Jobs realizes that he's cut off his face despite his nose with the AT&T exclusivity deal, he will then have to react to being behind in the market place and have to open up to more carriers than just Verizon.
Perhaps this rapidly changing mobile market, and the explosive growth with mobile phones, will even cause Apple to take a more drastic approach and actually release the SDK (or whatever it's called) to make the iPhone OS an open source platform just like Android.
What do you think?