Dunkin Donuts Free Iced Coffee Day 2010
If you are among the many people already complaining on Facebook and other social media, you may have gone to your local Dunkin Donuts for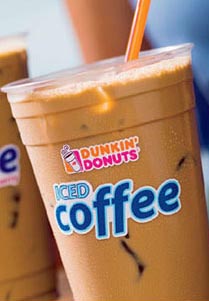 your FREE iced coffee only to find that your store is not participating.  Here are some complaints I've seen already:
"talk about false advertising, or at least misleading, dunkin should be ashamed"
"We were told in Boston that Massachusetts wasn't participating free ice coffee day. I always go to Dunkin Donuts, but I think it's time to start giving Honey Dew my business."
"Is this a viral marketing scam to get us into the stores, find out there is NO free iced coffee today so 90% of us will buy something anyway? Maynard, Concord, Acton MA locations had no idea what I was talking about when I went in"
And the complaints keep pouring in. So here's the scoop: the promotion is only happening in select markets across the country.
Baltimore, MD
Charlottesville, VA
Cleveland, OH
Harrisonburg, VA
Norfolk, VA
Washington, DC
Youngstown, OH
Pittsburgh, PA
Richmond, VA
Roanoke, VA
Salisbury, MD
Philadelphia, PA
Phoenix, AZ
So if you are in one of those areas, you may want to call before you head in to enjoy your iced coffee on the house. Otherwise, you may find yourself walking out empty-handed…or paying $.99 for that free cup of coffee you had your heart set on!