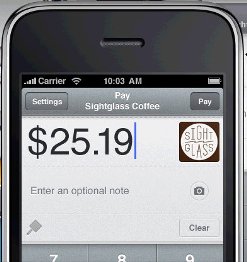 Pay With Square, Credit Card Payment for iPhone, iPad, Android (Video)
Just when you thought that mobile phones couldn't do anything more than they are already doing, let me introduce you to Square – the first ever mobile phone credit card reader.
Square is a creation of Twitter founder Jack Dorsey who said today that its iPhone and Android applications are live, and that it has begun to ship its first wave of credit card readers.
Here's a promo video about Square:
Square is based in San Francisco, along with his company Twitter, and they have basically created a small plastic reader that plugs directly into an iPhone, iPod Touch, iPad, or an Android powered device. And even if you are using Square, but don't have the small plastic device, you can still enter credit card payment information directly into the iPhone, iPad, or Android powered app.
Some other cool features of Square is that they include email and SMS receipts, photo ID system for users in order to prevent other people from swiping your credit card, and best of all Square is 100% free!
Jack Dorsey said via the Square website today:
We started in February 2009 with what we thought would be a simple task: open a merchant account to accept payment cards. This proved surprisingly difficult for us, and as we asked around, similarly challenging for countless others. Once we were approved for our account, it was unclear how much we were paying, to whom, and why it cost so much. Before us was an industry and a process in dire need of simplification.

Evolving something down to its essence isn't easy (or instant).  In Square's case, it requires the identification, coordination, and navigation of many massive and forward-looking organizations. Square seeks to build an amazingly beautiful experience; every pixel, piece of plastic, rate, detail, word, policy, partner, and decision is considered, debated, and improved constantly.

Today, in addition to releasing clients for the iPhone, iPod touch, iPad, and Android devices, we are opening up our first cut at activating card processing and pricing, and sending out our first production batch of free card readers. All represent just the beginning of what Square is striving to become: a simple payment utility for everyone.
Here's Jack Dorsey talking about Square:
Square's investors and backers include Khosla Ventures, Google's Marissa Mayer, Twitter cofounder Biz Stone, angel investor Ron Conway, Digg creator Kevin Rose, and others.
Check out and read more about Square at SquareUp.com.