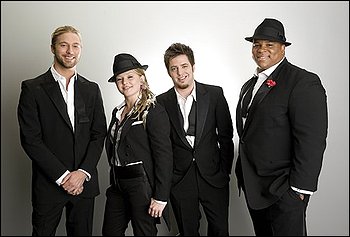 With Wednesdays announcement of "Big" Mike Lynche being voted off in 4th place on American Idol that leaves only three. The remaining contestants are, in no particular order, Crystal Bowersox, Lee Dewyze and Casey James.
There are probably many people out there saying "it's about time." Big Mike was voted off five weeks ago only to be saved by the judges.  That save helped him out tremendously on the show and slightly in his future career.
There was a touching moment at the end of the show when Big Mike held his daughter and gave her a kiss while saying good-bye to all of the other contestants and the audience.
As for the Final 3, the remaining trio gets to head back home next week to do a little family catch-up and to prepare for the finale.
There really only seems to be two contestants in this finale. Bowersox and Dewyze. Both have had pretty strong, consistent performances throughout the season, while James performs really well some weeks and really poorly other weeks. He's definitely the longshot.
Bowersox is probably the favorite to win the show due to her ability to put her own stamp on every song she does. Lee Dewyze makes the majority of the songs he performs feel like his own but still seems unsure of himself and that could be what ultimately does him in.