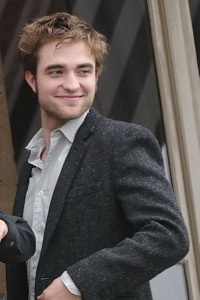 Best Dressed Vampire, Robert Pattinson's birthday is today, May 13, 2010. Best known for his roles as Edward Cullen of Twilight and New Moon, and Cedric Diggory of Harry Potter and the Goblet of Fire, Pattinson was recently named one of Time magazine's 100 Most Influential People in The World. Among other notable awards, the MTV Movie Award for Best Kiss with Kristen Stewart is perhaps one of the juiciest.
Born Robert Thomas Pattinson on May 13, 1986 in London, he quickly sought out a career in modeling and acting. The 2005 release of Harry Potter and the Goblet of Fire jump-started Robert Pattinson's film career. The Twilight novels by Stephenie Meyer catapulted Pattinson into a fenzy that borders on a vampire cult phenomenon. With the 2008 release of the blockbuster movie Twilight, and a year later in 2009 when The Twilight Saga: New Moon came out, fans were already sold on anything Robert Pattinson would do.
People and Glamour Magazines both claimed Pattinson was the "Best Dressed Man" and "Sexiest Men Alive", and made it into People's "World's Most Beautiful" issue. If that isn't proof enough of his rising fame, a wax statue of him was added to the Madame Tussauds collection in London and New York City.
Sources: people.com; wikipedia.org; time.com

//