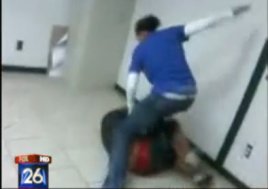 Sheri Lynn Davis, Teacher That Beat Her Student (Video)
(BungalowBillsCW.com)  The Jamie's House Charter School in Northwest Harris County in the Houston, Texas, went 14 months without realizing one of their teachers had a warrant issued for her arrest. I want to put this in perspective.
Sheri Lynn Davis beat up one of her students, which was caught on a cell phone video camera. I posted the video yesterday, and the rage the teacher showed makes me wonder how in the hell the Jamie House Charter School didn't catch on there were obviously anger and mental issues with their teacher. Davis obviously had serious issues. All of this could have been avoided had the school known she had an arrest warrant issued for criminal mischief for slashing another woman's tires.
Davis taught for 14 months with criminal charges filed against her. How does this happen? Obviously, the America's schools must do a better job of keeping an eye on teachers, because too many students are paying the price whether it be this beating or teachers who sexually prey on their students. Maybe, teachers need to be analyzed regularly for mental health, and when they have a warrant for their arrest, the school needs to be notified through state laws—not federal law.
Why not? Let's look at this. Americans go to airports everyday only to realize they have been placed on the no-fly list without any justification. Kids that violate age of legal consent laws find themselves tattooed as sexual offenders, even though they didn't threaten the safety of their partner. Yet, there is nothing that protects children from mentally unstable teachers. Why wasn't her driver's license or Social Security number connected to her teacher's license when the arrest warrant was issued?
I find it insulting. You constantly hear government official pass freedom robbing legislation to protect children. With each week that passes, we find our children have little protection in the public school systems, whether it be indoctrination, sexual freedom, education, and predatory practices of teachers, birth control, or all out abuse of the students. You watch, the second any type of legislation is mentioned to hold teachers to higher mental standards, there would be some liberal group and teachers union stepping in the way. All the while, the kids suffer from the unprofessional behavior in the nation's classrooms.
[source: BungalowBillsCW.com]
Teacher that beat her student video: