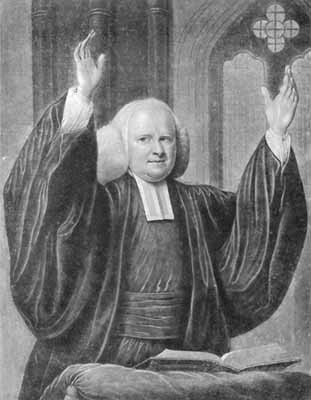 George Whitefield Historical Life 1714 until 1770. George Whitefield Historical Life is inspirational for several people. George Whitefield was born on December 16, 1714, in Gloucester, England. Generally, Whitefield is justly criticised in connection with his work amongst the first Africans in America.
The youngest of seven children, he was born in the Bell Inn where his father, Thomas, was a wine merchant and innkeeper. His father died when George was two and his widowed mother Elizabeth struggled to provide for her family. Because he thought he would never make much use of his education, at about age 15 George persuaded his mother to let him leave school and work in the inn. However, sitting up late at night, George became a diligent student of the Bible. A visit to his Mother by an Oxford student who worked his way through college encouraged George to pursue a university education. He returned to grammar school to finish his preparation to enter Oxford, losing only about one year of school. In 1732 at age 17, George entered Pembroke College at Oxford. He was gradually drawn into a group called the "Holy Club" where he met John and Charles Wesley.
He did not fight against slavery. At the Orphanage he built in Bethesda, Georgia, he purchased slaves, who although they were treated well, were nevertheless, slaves. Whitefield felt his responsibility was to preach to slave owners, and to correct abuses. He certainly didn't agree with the harsh treatment of slaves, but whether he acquiesced with the institution, or whether he merely felt he could do nothing, his failure to use his influence to end slavery, or even begin a serious debate to end slavery, was certainly a sin of omission on his part.
George Whitefield was one of the greatest Reformation preachers of the eighteenth century. Traveling from England to the New World Colonies (USA) and Scotland repeatedly he became known as the Grand Itinerant. He was one of the preachers who were a part of the revival known as the "Great Awakening." Song: The Mark of A Man of God Performed By: Steve Camp Written By: Steve Camp Album: Abandoned To God