Rockstar Games Red Dead Redemption To Be Released 05/18/2010.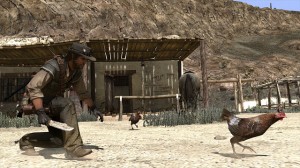 "America, early 1900's. The era of the cowboy is coming to an end.
When federal agents threaten his family, former outlaw John Marston is sent across the American frontier to help bring the rule of law. Experience intense gun battles, dramatic train robberies, bounty hunting and duels during a time of violent change.
Red Dead Redemption is an epic battle for survival in a beautiful open world as John Marston struggles to bury his blood-stained past, one man at a time.
Developed by Rockstar San Diego, Red Dead Redemption (RDR) is coming for Xbox 360® and PlayStation®3 computer entertainment system on May 18, 2010 in North America and on May 21, 2010 in Europe."
I'll personally admit that, while I cannot agree with the all of the moral issues presented in the Grand Theft Auto series, the open world gameplay really appeals to me.  Being able to go anywhere, without constraints, is the major selling feature of this game franchise.
That said, I'm really excited about the chance to play that same free-wheeling, open-ended style of play in this game ( available 05/18/2010 ) set at the end of the historic "Old West" period.  Oddly, I think my favorite feature is probably going to be the promised wildlife and hunting.  You can make additional money for your character by selling skins that you obtain from the animals that you harvest, and the act of hunting will sharpen skills that are necessary in other aspects of gameplay, such as multiplayer.
Each animal in RDR has its own unique behaviors: dogs will chase wagons, or bark at potential enemies; barnyard animals will hear together, taking fright at loud noises; large birds will scavenge from corpses, while predators like bears or wolves will put on aggressive threat displays or fearlessly attack humans.
Hunting was a vital means of survival in the West. In RDR, animals in the ecosystem will prey on each other, and sometimes on you or your horse. You can protect and defend yourself with the aid of trusty weapons or tools – or, (the part I'm looking forward to the most) you can go on the offensive and hunt for sport or profit. Special items can be purchased to aid in hunting and drawing out more elusive game. after a successful kill, animals can be skinned or harvested and then traded for goods with local merchants.
Here is a link to the launch trailer: https://www.youtube.com/watch?v=3gBctl1h_2o