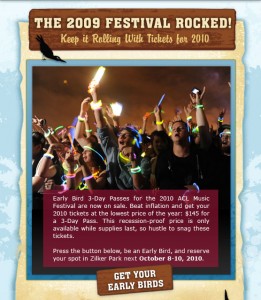 ACL 2010 Lineup a.k.a Austin City Limits 2010. ACL 2010 Lineup or people known as Austin City Limits 2010. The lineup for the 2010 Austin City Limits Music festival was released. With  130 announced acts performing from October 2 – October 4, it is hard to argue this is not one of the premiere annually recurring festivals.
Austin City Limits festival will take place from October 8-10 at Zilker Park in Austin, Texas, and feature headlining sets from the Eagles, Muse, M.I.A., LCD Soundsystem and Phish.
Getting started, you have to get tickets of ACL 2010 Lineup a.k.a Austin City Limits 2010 – the problem is they won't cheap. Three day passes are long gone, but single day passes are available for $85 and will go on sale may 18, 2010. That's not a bad price at all considering the amount of acts you can sample in a day. The nice thing is that ACL doesn't levy a service charge, so $85 tickets are really just $85, not $85 plus a $7 transaction, and $5 location fee, and $5 right to breathe air in a concert zone.
Among the other acts on the bill: Slightly Stoopid, Rebelution, the Sword, Matt & Kim, the XX, Portugal. The Man, Edward Sharpe and the Magnetic Zeros, Girls, Ryan Bingham & the Dead Horses, Blues Traveler, Local Natives, Lucero, Pete Yorn, the Soft Pack, Ozomatli, Robert Randolph & the Family Band, Richard Thompson, Manchester Orchestra, Miike Snow, Mountain Goats, Mayer Hawthorne, Foals, the Morning Benders, Trombone Shorty & Orleans Avenue, the Very Best and the Constellations.