NASDAQ:AAPL – Apple Stock Price Up 105% Past Twelve Months
Yes, Apple (NASDAQ:AAPL) stock prices have been a bit shaky over the past couple of week, and clearly they aren't doing much better today (see graph):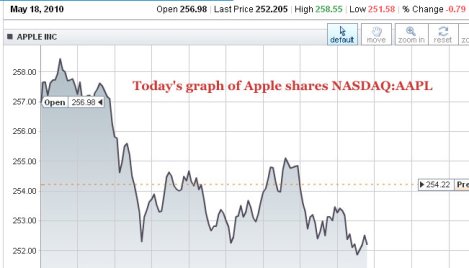 But what about stepping back a bit and taking a broader look at Apple share prices – like say the last 12 months?
If you look at the growth of Apple stock prices over the past 12 months – since the beginning of May 2009, Apple shares are up over 105%.
That's right – over 105%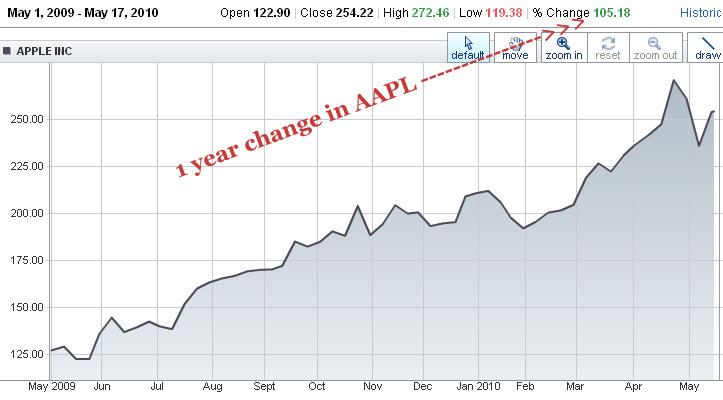 So even though Apple shares have had a bit of a rough ride, so really has the entire market and tech sector. Sometimes not even Apple is exempt from the fluctuations in the stock market.
Apple's Product Release Magic
If I had to take a guess, actually I think history would prove this, then I would say that Apple's explosive stock price has everything to do with the fact that Apple knows how to create the perfect product launch.
Apple doesn't care that the Apple fan boy club is not the majority in the computer tech and gadget world – in fact, Apple might prefer this to be the case.
Because with only a select group of fans, Apple is now able to launch just about any product it desires, and people will buy the product simply because Apple launched it!
But looking over the past year with product announcements like the iPhone 3GS and the infamous iPad, Apple stock prices are very much appreciating the aggressive launching of new products from Apple.
Charts via DailyFinance.com