Here Comes The Twitter Phone (Video)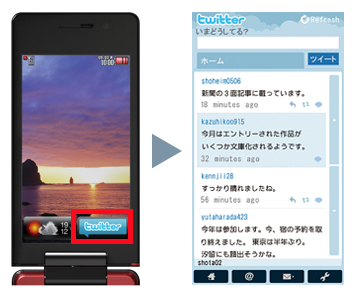 There are a lot of marketing platforms that major mobile companies have picked to launch their latest and greatest mobile devices. Some have been launched on the concept of 3G mobile internet speed, and others launched on the concept of "open source" app development.
Today, however, Twitter is the platform of choice of a new line of mobile phones coming out of Japan.
That's right – Twitter widget enabled mobile phones are coming to Japan (sorry US, we'll have to wait), according to Softbank – Japan's third largest mobile phone carrier.
Here's the press release about the Twitter widget phone from Softbank:
SOFTBANK MOBILE Corp. (hereafter "SBM") announced to launch MOBILE WIDGET and S! Appli for users to enjoy Twitter on their mobile phone.
Twitter is a real-time information network powered by people all around the world that lets you share and discover what's happening now. Through MOBILE WIDGET and S! Appli, users can easily enjoy Twitter with their SoftBank Handsets. "Twitter Widget" by Twitter, Inc., for example, is pre-installed so that it is easier for users to tweet from the display. Also, "TweetMe for S! Appli", S! Appli for TweetMe, and MOBILE WIDGET such as "twinavi" which helps search and follow celebrities' tweets will be available. All of these applications will be preinstalled from SBM's new models for summer 2010.
In addition, a web site called "Twitter Omatome Site" introducing MOBILE WIDGET, S! Appli, and related websites for Twitter will also be available. (For new models for summer 2010, this site can be accessed from browser's bookmark.)
How long before the US has the Twitter widget phone?
Although the Twitter widget phone appears to be launching in Japan only, I can't imagine it will be very long – maybe just a few hours even – before people with Android powered phones will figure out a way to acquire the new Twitter widget phone platform.
What do you think?
So what do you think? – Do you think a Twitter widget mobile phone is a good platform for marketing?
And would you be running out to replace your iPhone or Nexus One with a Twitter widget phone?